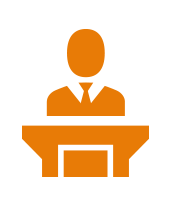 Spiritual Servant Leadership
As a church family, we are grateful to God for these men who are our Spiritual Leaders and chief administrators. They are fully engaged in their responsibilities for preparing weekly sermons, preaching, and conducting worship services. Our leaders, aided by the Holy Spirit and a commitment to sound Biblical doctrine, the present sound doctrine to our members and other stakeholders. Servant leaders provide care and counseling to church members and assist in times of crisis.
We are blessed to have these two outstanding Spiritual Servant Leaders, Jeff Jefferson and Dorrage Stephens
, as our pastors. Their job hours are irregular because they must divide their time between conducting worship services, attending social events at the church, and completing administrative duties. As such, we are tremendously grateful for our pastors' ministry and invite you to pray for their continued Spiritual, Servant Leadership.
Role of Pastors
Every church, whether large or small, needs a pastor who will shepherd, lead, feed, and guide the people to spiritual growth and service for the Lord Jesus. Pastors shepherd God's people by caring for them. Sheep that are ill or in distress rely upon their shepherd to tend to them. And when God's people are distressed or uncertain, they rely on their pastors to bring comfort, instil wisdom, and offer prayer. "Is anyone among you sick? Let him call for the elders of the church, and let them pray over him, anointing him with oil in the name of the Lord" (James 5:14). The pastor has a special function in caring for the people in his charge.
Pastors shepherd God's people by leading them. Sheep are wandering creatures who are prone to meander out of safety and into all kinds of danger. They need a shepherd who will lead and guide them. In much the same way, Christians need pastors who will provide leadership. This is a specific form of leadership, though, that better equips them to fulfill the ministry to which God has called them. They carry out this leadership by setting an example in godly character, knowing that the pastor's standard for character is really the standard for every Christian. "Shepherd the flock of God that is among you … being examples to the flock" (1 Peter 5:2-3).

Contact Our Pastor
Pastor Jeff Jefferson
& Tricia Jefferson
"And I will give you Pastors according to Mine heart,
which shall feed you with knowledge and understanding."
-Jeremiah 3:15