Watch us on the following additional platforms during our 11 am service1. C
lick your preferred option below: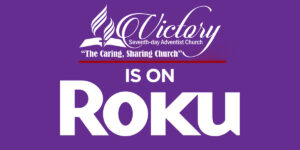 WATCH US ON
enabled ROKU TV or devices
Search for V S D A B N on the ROKU PLATFORM
(spaces between letters)
Weekly Church Bulletin
Discover more about us. Download our weekly worship program and announcements
Contact Us
Looking for a church, a change in life, or need to speak with our pastoral staff member?
Access to our Weekly Services below, are available via

Zoom:

ID 836 459 984 & Password: 34567
Saturdays 4 PM (EST)/ 5 PM (DST)
Everyday except Saturdays; and 10 minutes before sunset on Saturdays
(Start 10 minutes before sunsets)
Saturdays 5 PM (EST)/6 PM (DST)
(Start 10 minutes before sunsets)