The arrival of Covid-19 on our global shores has re-arranged so much of what we once did without a second thought; and that includes the way we once did church i.e. within brick buildings and face to face…now the church is "online". O+ur desire is to still stay connected to you, and we hope your desire is to stay connected with you. Thanks to technology we can still "reach out and touch". Displayed below is how we are staying connected to you and you to us.
Saturdays 4 PM (EST)/ 5 PM (DST)
Everyday except Saturdays; and 10 minutes before sunset on Saturdays
(Start 10 minutes before sunsets)
Saturdays 5 PM (EST)/6 PM (DST)
(Start 10 minutes before sunsets)
All the above listings are available via

Zoom:

ID 836 459 984 & Password: 34567

Click "HERE" to watch from this website
Watch us on the following additional platforms during our 11 am service1. C
lick your preferred option below: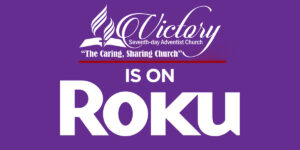 WATCH US ON
enabled ROKU TV or devices
Search for V S D A B N on the ROKU PLATFORM
(spaces between letters)
Weekly Church Bulletin
Discover more about us. Download our weekly worship program and announcements
Contact Us
Looking for a church, a change in life, or need to speak with our pastoral staff member?