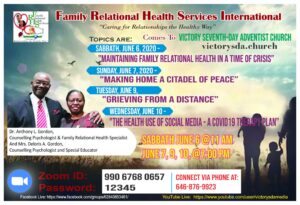 A Series For The Family!
We invite you to be with us for this upcoming event, designed for the entire family. In these days of unimaginable events impacting families we need to re-evaluate the strategies and practices necessary, for maintaining productive and cohesive family relationships and the family environments. Dr. Anthony L. Gordon will be our special guest during these series of presentations. These meetings will be as per the dates and times displayed on the above poster.
Biography of the Presenter
Dr. Anthony L. Gordon is an internationally well-known Counselling Psychologist and Family Relational Health Specialist. He has been practicing for nearly 40 years, having served the Seventh-day Adventist Church in several capacities such as Principal for 3 Schools; College Departmental Director, Conference Director for Communication, Family Ministries and Counselling Services, Human Resource Manager and Crusade Evangelist.
Dr. Gordon is the author of 7 books on Education and Family Life and is currently working on two others which are due to be published this year, on the subject of Family Relational Health. He has been a Radio and Television Family Counselor, newspaper and magazine writer also on the subject of human
and family relationships and related matters.
He and his wife (of 44 years), Deloris, also a Counselling Psychologist, have established Family Relational Health Services International, a family educational, assessment and therapy program which takes them across the Caribbean, in the USA, Canada, Europe, Africa and the Middle East, conducting Seminars, Conventions, Conferences, Retreats and Relational Health Clinics. The Gordon's have two adult children and 3 grandchildren. Dr. Gordon's motto is: "People Need People"
There are a several platforms available to watch and participate in this series. Below you will find the links:
5. Zoom Interactive Sessions: Meeting ID: 990 6768 0657. Password:12345
If joining by telephone call 646-876-9923 and use the above password.
We are looking forward to seeing you here!